Hi Here,
As the project grows-up, I started soldering my (own designed) bus & the motherboard that goes with...
--------------------------------
Salut,
Le projet commençant à prendre de l'ampleur, j'ai attaqué mon bus (propriétaire) et la carte mère qui va avec...
So, I needed a good VGA output interface, I found the HobbyTronic "Serial VGA Monitor Driver Board" & made it as a pluggable slave function board.
The rendering looks like that ->
--------------------------------
Pour commencer, il me fallait une bonne sortie VGA, j'ai donc trouvé chez HobbyTronic : la "Serial VGA Monitor Driver Board". J'en ai fait une carte "de fonction" que je peut brancher sur ma carte mère, le rendu ressemble à ça ->
Then, as my main/stick board embeds a USB Keyboard host, I can just plug the whole on a USB battery & be completly PC-free to drive my system !
--------------------------------
Et comme ma carte principal/ordi-stick embarque une interface clavier USB, je peut brancher le tout sur une petite batterie USB et me passer complétement du PC pour contrôller mon petit ordinateur !
The motherboard is still growing up ...
--------------------------------
Ma carte mère s'aggrandit ...
From left to right : VGAText card, WIFI card, additional power supply card :
--------------------------------
De gauche à droite : la carte VGAText, la carte WIFI et une carte d'alimentation supplementaire :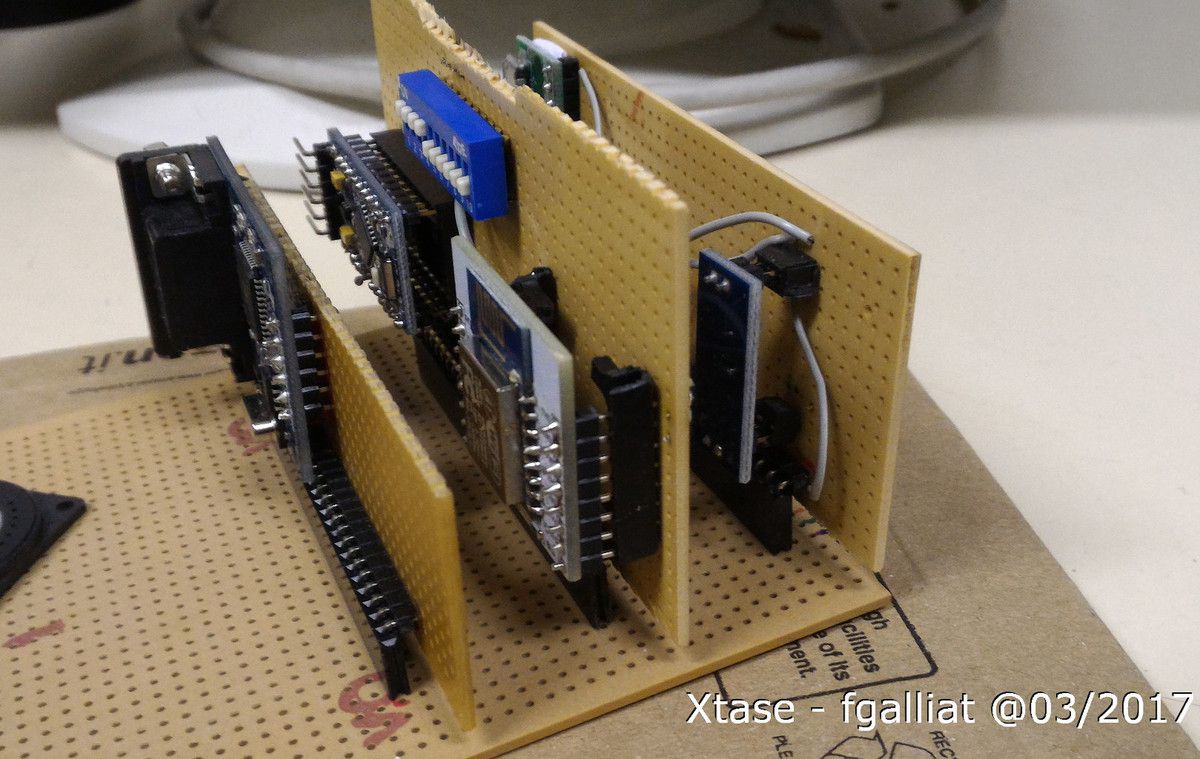 And now, with the WIFI board & a cloud based (minifier) server : I can read some RSS, track a parcel or check weather & the whole is drivable by the BASIC
--------------------------------
Et maintenant, avec la carte WIFI & un serveur (de minification) dans le Cloud : je peut consulter un flux RSS, suivre un colis de la poste ou surveiller la météo...
Le tout est bien-sûr contrôlable par mon BASIC
Here is how my network system works :
I implemented some web services on my cloud server, it defines all services that I can provide to my computer + It minifies as possible the result of these services.
Then the packets are readed by the ESP-8266 and the whole protocole verbosity is filtered by the AT328 (arduino promini) to be restitued to my StickBoard's BASIC as an array of lines which can be reformatted then be displayed.
--------------------------------
Et voici comment fonctionne mon réseau :
J'ai implementé des services web sur mon server Cloud, ces services (Météo,RSS,colis) déterminent les fonctionnalités que je vais pouvoir fournir à mon ordinateur (et au passage il réduit la forme du résultat - lignes de texte).
Puis les trames sont lues par l'ESP-8266 et toute la verbosité du protocole est filtrée par le AT328P (arduino promini) afin d'être restituée à mon ordiStick sous forme d'un tableau de lignes que je peut reformater et afficher à l'aide de mon BASIC.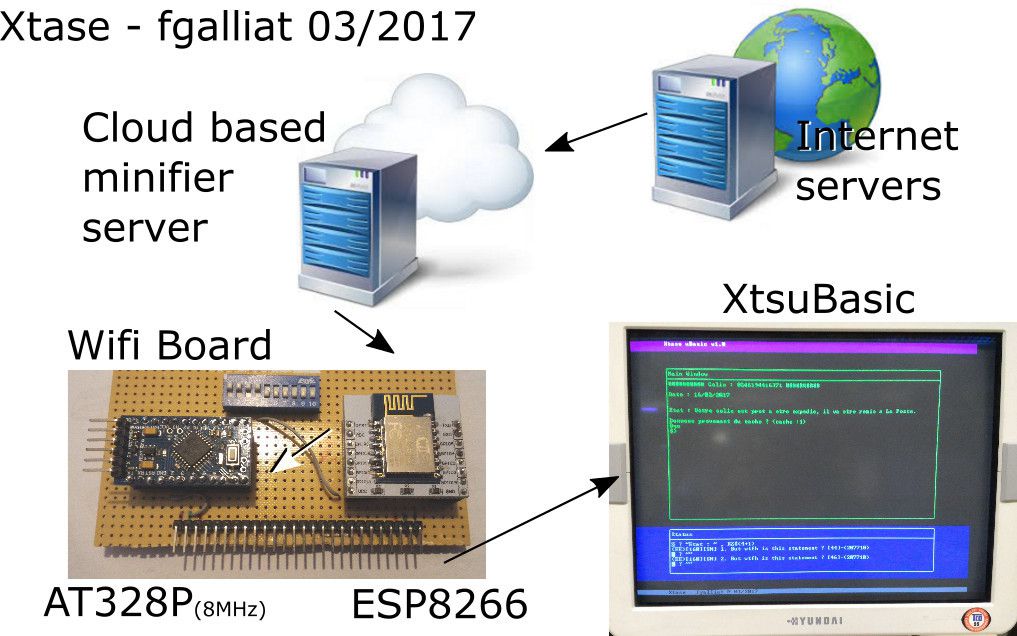 Partial own BUS specs :
--------------------------------
Extrait des specs de mon BUS proprio